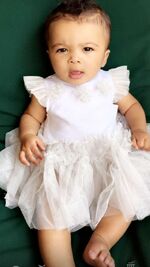 Paris Michael Cunningham as Amara Creed
Amara Creed
Character information
Gender
Female
Birthplace:
Los Angeles, USA










Related to
Adonis Creed (father)
Bianca Taylor (mother)
Ms. Johnson (paternal grandmother)
Apollo Creed(paternal grandfather)
Mary Anne Creed (adoptive grandmother)
Son of Apollo Creed (uncle)
Daughter of Apollo Creed (aunt)
Portrayed by:
Hendrix McDaniel(Newborn)
Paris Cunninghaman (4 Months)
Amara Creed is the daughter of reigning WBC heavyweight champion Adonis Creed and Bianca Taylor. She is also the granddaughter of former heavyweight champion Apollo Creed.
Biography
Born in Los Angeles, California, Amara inherited her mother's progressive hearing disorder and was born deaf. This diagnoses broke her parents' hearts, as Bianca lamented Amara would never appreciate her mother's love of music, and Adonis thought life was hard enough as it is. However, Adonis is heartened by a pep talk from his manager Rocky Balboa, who believes Amara will grow up not feeling sorry for herself and that her grandparents are looking out for her from the great beyond. Rocky says he loves Amara and Adonis should be proud of her as well.
When her mother goes to the studio, Adonis takes Amara to the boxing gym where she helps her father realise that he needs to be more open to his wife, Rocky, and other people who are close to him. At the end of the film, after Adonis has returned to the States after being in Russia, where he defeated Viktor Drago, he is seen with his wife and holding his daughter by the grave of Apollo Creed. The baby is wearing a specialised hearing aid. Adonis "introduces" Amara to her grandfather by telling her what a remarkable man he was.
Appearances
Community content is available under
CC-BY-SA
unless otherwise noted.