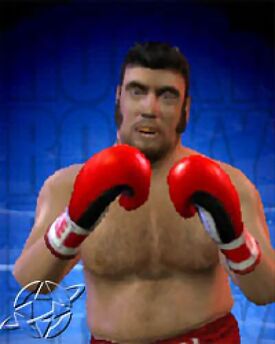 Ernie from the "Rocky: Legends" video game.
Ernie Roman
Character information
Gender
Male
Born:
1935
Died:
December 26, 2008 (aged 73)
Height:
6 ft 2 in (188 cm)
Weight:
315 (143kg)
Reach
78 inches (198 cm)
Job/Career:

Boxer




Known Opponents:
*Rocky Balboa (defeated by boxer)
Ernie Roman was a boxer that fought Rocky Balboa. He was an American from Houston, Texas. Ernie appears in the 2002 Rocky video game for the PlayStation 2, GameCube, Xbox, and Game Boy Advance video game console systems, as well as Rocky Legends game.
About Ernie Roman
In the game, is presented as a massive slugger with amazing punch strength. He's been round the block and knows the game. In the scouting of Ernie, it describes that on how to beat him in a match, to keep chipping away at him, dodging his powerful blows. When he starts to tire, hit him with all you've got.
Note: Movie fans may may or may not remember Ernie Roman. Barely mentioned in the first film, Ernie is the opponent first mentioned as an alternative after an injury forced Mac Lee Green drop out of a scheduled fight with Apollo Creed in Rocky. Roman, however, was unavailable, as he was scheduled for a fight in France that same week
He died on the twenty sixth of December, 2008 from his old age. He was 73.
Appearances