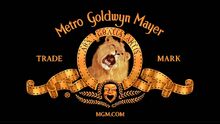 Metro-Goldwyn-Mayer, Inc., or MGM, is an American media company. They mainly make movies and television programs. On April 8, 2005, the company was bought by a group led by Sony and Comcast along with Texas Instruments and Warner Bros. until emerged from bankruptcy on December 20, 2010, due to Spyglass Entertainment founders, Gary Barber and Roger Birnbaum becoming co-chairs and co-CEOs of the company.
The company is named after three companies which were combined in 1924 to start the MGM movie company. They were Metro Pictures, Samuel Goldwyn Productions, and Louis B. Mayer Productions.
Rocky is possibly the most famous movie series made by MGM.