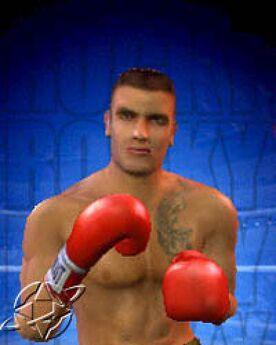 Colombian champ Vito soto as he appears in the video game "Rocky".
Vito Soto
Character information
Gender
Male
Born:
March 14, 1955
in Cartagena, Colombia
Height:
6 ft 1 in (1.85 m)
Weight:
217 pounds (98 kg)
Reach
78 inches (198 cm)
Job/Career:

Boxer




Known Opponents:
*Rocky Balboa (defeated by boxer)
Vito Soto is a professional boxer who once fought Rocky Balboa. He appears in Rocky III, the Rocky video game and the Rocky Legends video game.
About Vito Soto
In the game, Vito has been the Pan-American Heavyweight champ for the last 4 years, and in doing so, has displayed all the tools of a great boxer and vast experience. He's scouted as a smart fighter who can handle just about any situation in the ring. But as his confidence grew with each fight, his training and fitness had suffered, and that he tends run out of steam in later rounds.
Note: Movie fans may remember Vito Soto as a headline during the Fighter montage in Rocky III. Facing Balboa towards the end of the sequence, he was knocked out hard.
Appearances